One of the best parts about being a woman is all of the wonderful products we get to play with to enhance our beauty. I will admit that sometimes I envy my boyfriend when he can just hop out of bed in the morning, or emerge fresh from the shower in 5 minutes flat, and be ready for the day. I take a little (ok, a lot) more time to become how I see myself as presentable. But then I think, his morning look is the best its going to get for him, all naturale, all day, every day! (Kris, if you're reading this, I mean no offense! I love your morning look, it just wouldn't look so good on me :) ) So once I get past the whole getting out and bed and getting motivated bit, I rather enjoy sitting at my vanity and putting on a new look for the day.
I thought i'd compile a few of my favorite beauty items in hopes that one or two might become your new favorite beauty item!
First up is a wonderful blush called "Papa Don't Peach" from
Too Faced cosmetics
: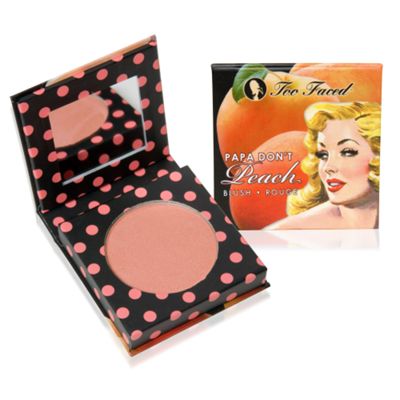 It gives the perfect warm glow to the cheekbone, and goes with almost any eye color I wear. There's a light shimmer, but its not to the point of sparkly. And need I even mention the packaging?
Next up is Carbon Black Lineur Intense from L'Oreal:
I actually picked this up on accident and never would have dreamed that it would be the best liquid liner i'd ever tried. I initially thought it was a pen liner, and almost returned it when I discovered it wasn't, but i'm sure glad I didn't. I gave it a whirl and now I will never be without it. Other liquid liners I've tried sweat off into my lid crease, creating a horrific black line halfway up my eyelid, or got flaky and chunky throughout the course of the day. Others with a fine brush were very hard to work with and made creating a simple cat eye quite challenging. This liner has the perfect felt tip to create a smooth thin or thick line, depending on the pressure. It's wonderfully flexible so you can get a good "flick" to the point of your cat eye. I don't usually buy drug store makeup brands, so I was shocked that this is one of the best beauty products I have ever owned.
Ok, moving onto the best face cloth IN THE WORLD! I know, that's a pretty big statement, but I truly believe it. This title belongs to the "Off Your Face" clothes from Soap and Glory:
Soap and Glory products are only available at Target in the US, but i'm there all the time so it's quite convenient. These clothes cleanse, moisturize, and tone your face without leaving a sticky dewy feeling that I have come across with other face clothes. They have a durable, yet unbelievably soft texture to the cloth that clears off your make-up without much effort or time at all. I use a mac waterproof base (paint pot in soft ochre) under my eyeshadow that won't budge with other make-up removers, but with a couple swipes of these clothes it doesn't stand a chance. With other clothes I had to sit and rub my eyes with them, or pull on my lids to get the liner off, and it really worried me that all that yanking and stretching of that delicate eye skin was going to catch up with me one day. A big plus with these clothes is that you can be gentle with these, but still get great results
Next is another Too Faced item from their Quickie Chronicles Collection. This is the Vixen Palette:
I could only find this palette on ebay since these are limited edition palettes, but it was brand new in in sealed wrap. The pigment of these colors and the variety of ways that you can use them together really makes this a wonderful beauty piece. It is by far my most often used palette, and the colors are pretty outfit neutral. I also love how each palette has it's own little personality, and these shadows and glosses do make me feel like a little bit of a vixen ;)
Another beauty favorite of mine is CHI Silk Infusion:
This. is. amazing. I use it every time I get out of the shower, and my hair becomes so silky and sleek that I can't stop touching it! My hair gets pretty damaged from flat ironing it daily (with my CHI flatiron, naturally), icey, drying snow blasts at the bus stop, and my most recent bleaching/coloring experience, but this product makes it feel like the healthiest hair in the world. I don't really like to use products in my hair because they all seem to gum it up, weigh it down, or make it look greasy, but silk infusion does none of those things. It is undetectable in your hair after you blow dry (other than the wonderful transformation to a luscious, silky do). If you go to your local JC Penney Salon, they usually have a really cheap bundle of CHI products. I got a full size silk infusion, a travel silk infusion, and a full size thermal protector spray all for $7.99! So keep an eye peeled for this wonderful product.
Last, but certainly not least, is from my favorite cosmetics brand of all time...
Benefit Cosmetics
! I have many of their products, but one in particular that really stands out to me is their
gloss
:
I have this gloss in "Zone Out" which is the perfect gloss to put over any lipstick. It is a thicker gloss, but not overly sticky, and it lasts for a long time. It has a little bit of a gold shimmer to it that I adore. As summer approaches I will probably pick up a few more shades of this gloss to pop on.
ok, that was a long one! But I hope this peaked your interest in discovering some new products!