I kicked off the week to a good start, even though I fear it is going to be a perilous week none-the-less (as the semester winds down, the professors realize they haven't taught us anything and really pile it on). It was a gorgeous day in lower Michigan, and my wonderful housemate and I seized the crap out of it! Even though I live right next to Grand Rapids, I rarely go into the city. But there is an amazing (and cheap!) Mediterranean grill called Parsley that has good deals for students, so we decided to head to the big city for a late lunch. It felt so nice to sit out in the sunshine enjoying good food and people watching. It was almost like a little vacation :) We went for a good walk around the city and stopped in an awesome little bookshop (If I hadn't accidentally left my debit card in the pocket of the pants I had worn the day before on the floor at home, I may have purchased everything in the store!).
We still hadn't had enough sunshine when we got home, so we plopped ourselves on our front landing and chilled. Julie was hard at work on her many "lists" of things and I took the opportunity to pot some herbs. I have never grown herbs before, so here's to hoping I get at least one little sprig of something to grow! I planted some Lavender, Greek Basil, Parsley, and planned on some Sweet Peppers, but can't seem to locate the packet of seeds, so I'll have to run out and find some more of those. I was going to leave them out on the landing for some fresh air last night, but took them in and put them on the windowsill last minute... boy am I ever glad I did because we had outrageous storms all night and half of the day so far today! They would have been washed right away!
I also inherited my mom's old "rootbeer" bike that I was lucky enough to bring down with me. It's from 1982, but is in perfect condition. It's a rust-orange-brown color (hence the "rootbeer" bike) with fenders, a nice big seat with springs, big handlebars... the whole bit! I love it, I really do... all it needs is a nice big wire basket on the front and maybe a few silk flowers for decoration. I'll post a picture of it when I get those things. Of course there is rain in the forecast for much of the week so I can't really cruise around that much, but it's a blessing in disguise because I have too much on my plate as it is...
I also found a little bit of time before I went to sleep to cut out a new project,
Simplicity 2654
, view A (the pants).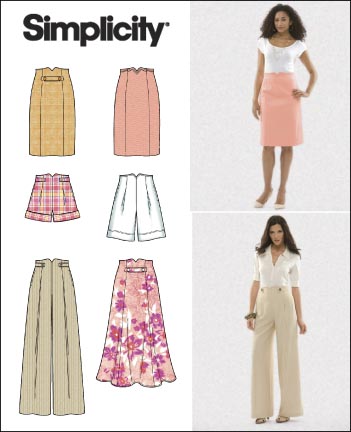 I have a job shadow and some presentations coming up very quickly and need some snappy new dress pants. This is my first attempt at ever sewing pants, so any tips or tricks would be much appreciated!! They don't look very complicated, which makes me even more worried, hehe. I hope to have them done by tomorrow evening since I have a job shadow on Thursday, so wish me luck! I'll keep you posted on the process.
P.S.... isn't there something so Zen about cutting out a new pattern to the sound of a thunderstorm and pouring rain??